Yep, the above post title references what is still one of my favorite songs, "all falls down" by kanye west. Before he became king of the douchebags. altho not gonna lie....i still like the music he puts out, i just don't support it as much.
Anyways, what follows is a new fave pic, featuring the astonishing Karlie Kloss. I kind of love it when fashion shoots don't take themselves too seriously and sort of blend into the realities of our day to day lives. Be warned, this is a summery photo, and for those of us freezing our derrieres off in close-to-winter weather, this might make you cringe.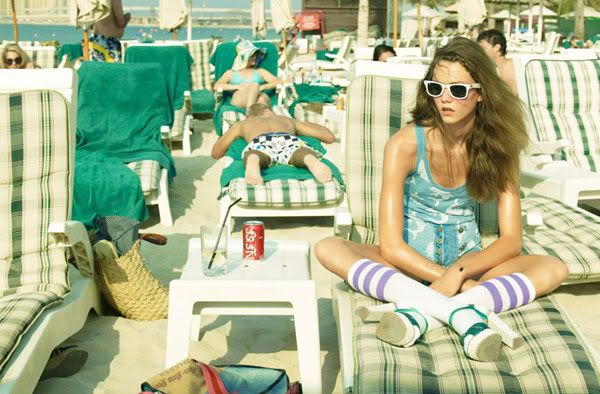 source: fashiongonerogue
ps i do have an outfit post coming up, probs on sunday...:). I think it will be a double-outfit post also...i know, how cool am i?
and a HUGE thanks to Patty Ann for a blog award (its like the culmination of a few she was awarded). She is so so so sweet and has a really kickass blog, you should check her out at:
http://alphabetachic.blogspot.com/
so i'm supposed to list 7 interesting things about me and then I will pass this award on to other bloggers:
a) i volunteer at my local animal shelter
b) I can speak three languages
c) my biggest passion is writing...especially poetry
d) I would faint if i met ryan gosling
e) I cannot play sports for the life of me
f) I believe wholeheartedly in and participate in yoga
g) I have been to alaska....and it was unbelievable
not sure how interesting that all was?
but check out these sweet blogs asap...and i check out so many great ones so i am really just picking a few out of the tons that inspire me each day. i'm kind of not sure how to title this award seeing as mine from Patty Ann was like a group of 4, so I'm going to call it
"Inspiration Award".
http://www.fashioncappuccino.com/
http://la-rue-neuve.blogspot.com/
http://sweetarrow.blogspot.com/
http://www.thestarvingstylist.com/
http://www.phosphenefashion.com/
http://myfloorisred.blogspot.com/
http://jenniferfabulous.blogspot.com/
http://forwhomthebeltolls.blogspot.com/
http://cheapthrillsss.blogspot.com/
http://rollupyoursleeve.blogspot.com/
http://thenewblack-starr.blogspot.com/
http://www.missnonhuman.com/
http://www.lionstigersandfashionohmy.com/
will get to your blogs tonight and tom night :). sorry for the long boring post
gotta do more of these since i love so many blogs...i'm not kidding, check out how many i follow. i think actually every day i will link to a blog! *pats self on back*
pps.....you guys who read my blog and comment ALWAYS put smiles on my face and i can't thank you enough.
xo,
Liya