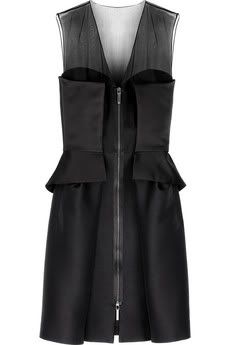 Rue de Mail by Martine Sitbon via Netaporter
How quietly stunning is this dress?
thanks for all the well wishes concerning my job....my first real shift is in 2 days so i'll be sure to report back!
Oh and I have another collage on the way haha...gawd they're fun to make. Defs some outfit posts too coming up this week...i've been pretty bad with those but its only cause im too frickin lazy to get a tripod and many of my self-taken pics just turn out embarassingly bad...so I have to figure out my plan of action (probs will involve a tripod at some point) .
And how in the hell do i not own this vintage Thierry Mugler romper from NastyGal? it's all sold out now :(
i leave you with a quick, unflattering shot of what i wore today;

the dress is from urban outfitters, and i'm wearing it with black tights and towering black heels that i was too lazy to take a picture of...forgive me? i frigging love orange, which is one of the few colours i'm still in love with as i am currently mostly just obssessing over black, grey, and beige.
i PROMISE the pics will get better when i have more time to plan for them
xo,
Liya