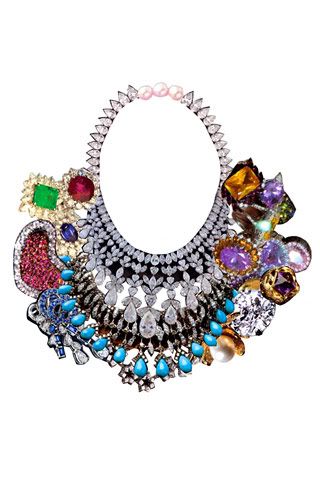 Top: Miu Miu necklace
Bottom: Tom Binns Necklace

source: style.com
I think either one of these necklaces would take a very boring outfit to new heights. Although to be frank, i don't even want to think about what the prices of these babies are.
Thanks for all the well wishes! I'm feeling a lot better although I probably took a step back in terms of regaining my voice because I went to the Mika concert last night....holy crap he KILLED IT. The guy has boundless energy, and it's infectious. Can you believe that at the beginning of the concert some girl behind me asked me to SIT DOWN??? Ugh. Everybody else was standing.
Bought some new stuff yesterday, slowly realizing that the majority of my wardrobe is gray and black....and I kinda like it. Also slowly starting to spend upwards of 100 on single items now that I make money...and i kinda like it. :) Can't wait to show you guys my sweet purchases.
Starting to want to spend money on good-quality jewllery too so i can keep it instead of having it turn copper or turn my finger purple. I have my eye on that crazy Yves st laurent ring that's sold out everywhere.
song of the day: Breaking it up by Lykke Li
xo,
Liya